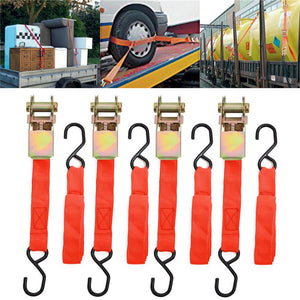 Carefully Selected Materials: Made of aluminium alloy handle, the strap is non-slip, durable, light, anti-rust and not easy to deform.
Encrypted Needles: The dense stitches and multiple traces for fine workmanship.
The enhanced tension of the strap ensures long service life.
No Deformation: With the reinforced metal ratchet buckle, the strap has a compact structure for not easy to deform and preventing the rust.
High-strength J-hook: The reinforced cast hook is stronger and prevents the hook from breaking off during use.
Beautiful and Elegant: Made of high-strength polyester yarn, the strap has high strength and elastic recovery, and the colour is bright and light.
Specifications:
Name: Ratchet Tie-Down Strap
Material: steel frame and polyester webbing
Color: orange
Width: about 1 inch
Strength: 5T
Length: about 4.5m/177.17in

Uses: The ratchet is widely used in transportation of various industries like the bundle of goods and trailer self-rescue